LEARN EMIRATI DIALECT &
CONNECT WITH LOCALS
Welcome to Al Ramsa Institute, your exclusive destination for mastering Emirati dialect at every level, from beginners to intermediate and advanced learners. As the sole institute dedicated to the art of Emirati dialect instruction, we take immense pride in our commitment to preserving and celebrating Emirati culture and language. Our team of Emirati native speakers, combined with our comprehensive curriculum, offers a unique opportunity for individuals of all backgrounds to explore the linguistic heritage of the UAE. Whether you're starting your journey or seeking to perfect your Emirati Arabic language skills, our flexible options, including private or group sessions, in-person or online, and an array of supplementary materials, ensure a tailored educational experience.
Join our vibrant community of learners and embark on your path to Emirati dialect mastery today!

Emirati Arabic Materials
"Explore our exceptional Emirati Arabic audio resources, easily downloadable to your phone or computer, for convenient learning."

Emirati Arabic Courses
"Discover our wide array of Emirati Arabic eBooks, available for instant download, enriching your Emirati Arabic language journey."
Why Learn
Emirati Arabic Language?
Social Bonding
Forge deeper connections with Emirati neighbors.
Enhanced Work Relations
Improve professional relationships with Emirati colleagues.
Effort Appreciation
Show respect for Emirati culture and heritage.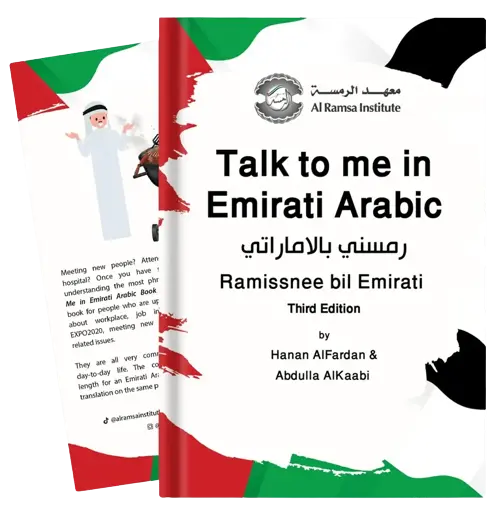 Seamless Daily Life
Navigate daily tasks more easily in the UAE.
Local Insights
Gain insights into Emirati traditions and customs.
Family Engagement
Better engage with Emirati friends and family.
Ready to Enroll or Want a Trial Class?
Emirati Arabic classes- Your bridge to culture and communication.
Upcoming Emirati Arabic
Group Courses
Face to Face Group course spoken Emirati Get a head start in learning Emirati Arabic Bridge the cultural gap and
Get a head start in learning Emirati Arabic Bridge the cultural gap and strengthen your relationships with Emirati locals through
Face-to-face Group Course Beginner Level A1 Get a head start in learning Emirati Arabic Bridge the cultural gap and strengthen
Hundreds of
5 Star Reviews
Fazil Abdul Latheef
2022-11-06
Asalamu alaikum. Al Ramsa institute is a wonderful and best academy for those who is seeking to learn emarati Arabic. Founder Hanan mam and Friendly teachers are full support to study very simply. Study materials are very nice. If we have any budget problem, the course payment we can do it installment vise
Ana Maria Aladwani
2022-11-06
Thank you for all the efforts with which you create the content, I've learned so much from you , the best place to learn emirati arabic!
Shuhaib Chakantavidǽ
2022-11-06
Ms Hanan Al Fardan is super good in delivering and conveying the lessons with her own simple techniques and very easy to catch up for any beginner. A worth of the worth platform who is really willing to get on and accomplish the Emirati Arabic dialect. Regards, SC
I love the course books and everything is explained so clearly step by step. I highly recommend this institute for anyone who wants to learn Emirati Arabic! I started with the A1 beginners class and I am now doing a B1 class, and I am so glad I found this institute. 🙂
wali al blushi
2022-08-17
You see... I have lived in UAE for 15 years and I can barely speak Arabic🤣 but after I followed Al Ramsa on TikTok and Instagram also YouTube and learned from them, I can communicate easily now, definitely giving them 5 stars for their hard work in all the online platforms, pretty sure their offline classes are just another level.
Arshia Hussein
2022-08-15
This is a dream come true kind of place. As an expat, i have always wished i could become able to converse in the same language as native speakers do but there was no such support system at all of such kind earlier.. I strongly believe that the wise leadership of this beloved nation must promote this institute and spread awareness to this Society as this is that missing opportunity we all have been waiting for... This place deserve to be given an 👏 for the hardwork and efforts put in place for such initiative and to make it to this well deserving success. They are certainly the change makers, bringing forward the most needed upgrade, i therefore call them my heroes. 😘 Love you all.!♥️
I've always wanted to learn arabic, after looking for the perfect place, I found it! Definitely I recommend 100% Al Ramsa Institute for all those people willing to learn this amazing language. Amazing teachers, high quality content.
Excellent teachers, intriguing lessons and the decision to learn the beautiful Emirati dialect (not to forget the amazing cultural events)- is truly worthwhile. 🙏🏻🌺💐♥️🥰